Local Waterways Have a New Protector
Starting as a mountainside spring below Riga Lake and South Pond, Webatuck Creek grows quickly from a trickle to a burbling, life-filled stream.  As it flows south through Amenia it becomes the Ten Mile River. Leaving the state below Kent, it enters the Housatonic River and heads for the sea.
If we take this invaluable watercourse for granted, as the term "creek" suggests we do, a lengthy and detailed study now in draft form should pique our interest. Its numerous authors have put years into information gathering and writing, and now ask us, the public, for scrutiny and comments. 
One point of this massive effort to forge consensus about the stream's future was to gather all affected parties. This has been achieved and is spelled out in the study's report, "Ten Mile River Watershed Management Plan." 
Parts of the 210-square-mile watershed are in pretty good shape; other parts, as you might expect, need significant help.
In the Town of North East, from whence this website originates, the Report discusses three projects and asks for specific feedback on all three:
NE/Millerton joint highway garage project: pages 152-4

Millerton's Century Boulevard drainage: pages 155-6

Millerton storm drain improvements: page 157.
Thoughtful comments about other projects—and anything you think the Plan should have included—are solicited.
The authors, named the Ten Mile River Collaborative, include officials and volunteers from the communities the stream drains: Salisbury, North East, Millerton, Amenia, Wassaic, Dover, Pawling, and Sharon. It was ably executed by the Housatonic Valley Association, aided by representatives from Cornell Cooperative Extension of Dutchess County, Dutchess County Soil and Water Conservation District, Dutchess County Planning Department, CT Northwest Conservation District, NYS Department of Environmental Conservation, CT Department of Energy and Environmental Protection, Open Space Institute, USDA Natural Resources Conservation Service,  and the US Fish and Wildlife Service. Many other environmental and land-use organizations were also involved.  
A sign of project's founding principle—the interconnectivity of all water—is that a major funder was The National Fish and Wildlife Foundation's Long Island Sound Futures Fund. It recognizes that what leaves, say, Millerton by water will eventually end up in the Sound's harbors and on its beaches. 
A key goal: "Leverage the outstanding natural and cultural heritage of the watershed for economic development, while balancing economic growth with natural resource conservation." 
Here, more of the project's initiatives, starting on page 172 of the report:
8.2.1 Ten Mile River Watershed Connections—bringing local youth to help with watershed restoration projects.
8.2.3 In-Stream Wood Management—dealing with large deposits of wood (downed trees, limbs, branches), especially after floods.
8.2.4 Stream Cleanups—A good way for residents to connect with their local waterways. 
8.2.5 Stream Corridor Assessments—identifying areas for restoration and pollution sources, to develop a more detailed action plan. 
8.2.6 Water Quality Monitoring—TMRC aims to launch two programs: one led by professional staff and one for trained community scientists. 
8.2.7 Temperature Studies—Monitoring to identify feeder streams that have cold-water habitat, which is threatened. The lower Ten Mile River has increased in mean annual temperatures over the last 20 years.
Greenhouse-Gas Emissions Inventory
One of the main goals of the Climate Smart Communities program is to help reduce greenhouse-gas emissions. These come from a wide variety of sources, principally from human activities, and are contributing in a major way to global warming.  One might say that the greenhouse-gas emissions from Millerton and North East are miniscule in the total scheme of things, and that's true.  But if every city, town and village took that perspective, we'd never get anywhere, and most of us would prefer to be part of the solution, not part of the problem.
Our greenhouse gas emissions come from a variety of sources. There are the obvious ones, such as vehicle exhaust, home furnaces or gas stoves.  But we also need to think about the electricity we use to power everything from lighting our homes and offices, to refrigerators, computers, garage door openers, etc. etc. It's a long list! When we order something from Amazon, there is the packaging that was fabricated, and the truck that delivered it.  Maybe even a cargo plane was involved. All of which adds up. In order to reduce our consumption, we first need to figure out where and how much we are emitting.
So the first step for Town and Village government is to inventory and measure all our emissions.  Since there are just a few buildings involved, namely Town Hall and our highway departments, plus the vehicles and maintenance equipment that we own, it's not an overwhelming task. Then, when we know more accurately how much we are emitting, we are in a position to figure how we can reduce it. Be assured that we are committed to that goal, too. 
— Chris Kennan, North East Town Supervisor
The 2020 Town Government Operations Greenhouse Gas Emissions Inventory Report is available:
The 2020 Village Government Operations Greenhouse Gas Emissions Inventory Report is available here.
Town Building Energy Use Benchmarking
In June 2021 the Town of North East voted to track its energy use in all its buildings annually in accord with recommendations for NYSERDA's Clean Energy Communities program (click here for the Town Board Resolution). This information will allow comparing  what the Town expends in its buildings with that of other New York State public buildings of similar type, size, and use. This data will help North East make its buildings more energy efficient and cut energy waste. This effort is important: Historically, buildings account for 60 percent of the energy used in New York State.
The Town's energy bills (electricity and oil consumption) will appear in Energy Star Portfolio Manager, which creates an annual energy-use report. It will contain up to two years of energy consumption and be available on this page (click here for the latest report) and through a link on the Town website.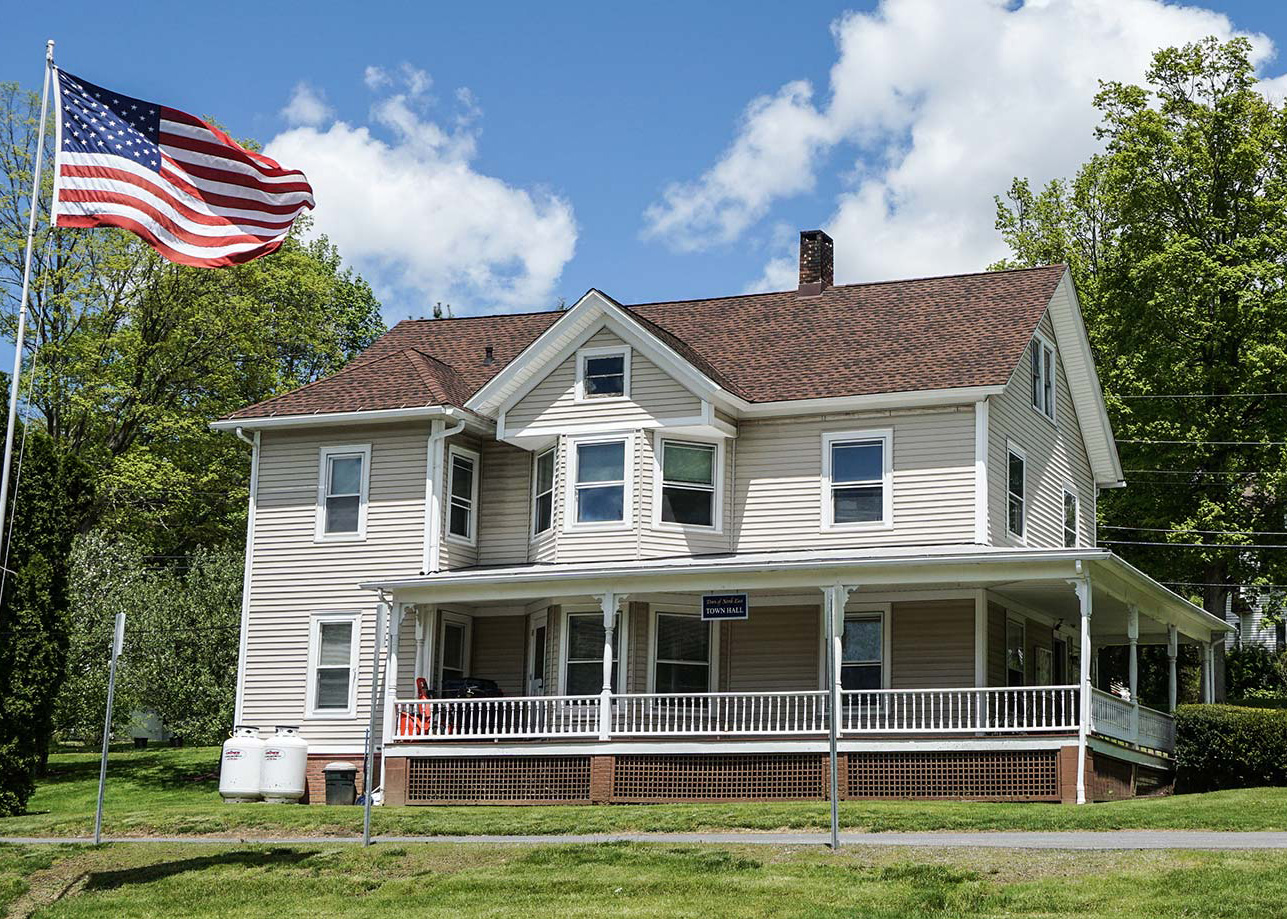 New Town/Village Highway Garage, and It's Green
The Town of North East and Village of Millerton are being agreeable these days, and now they will share a new facility for their highway departments.
Currently, the Millerton highway department borrows space from the Village water works, a concord rooted in necessity rather than design. The North East highway department has been housed in a thriftily built cinder-block building on South Center Street right next to Webatuck Creek, with its piles of salt and sand outside, mere feet from the creek bank and easily in reach of a 100-year flood—hardly an ideal situation. 
The two governments are remedying these circumstances in a multi-year, multi-million dollar project that will house both departments in a single modern building on a plot that combines everything the two departments need, including maintenance and repair, storage, fuel, and ultimately electric charging when truck power switches from diesel to electricity.
The first steps involved securing the property, after a long but fruitful search—a parcel 1.3 miles north of the Route 22/44 light, purchase price was $6,000—then preparing the land and building the first structure, a salt shed. This was complete in 2020 and the salt and sand moved from South Center Street to its new and vastly improved shelter well before the winter road season began. A storage building and garage with new efficient fueling station stands midpoint in the site.
The next step is to construct the main structure, a green building with offices and maintenance and wash bays for all Village and Town trucks. Low-carbon concrete, efficiency sensors, and sophisticated drainage filtration will make this structure a model of sustainable building. The third step will be to add a solar array, which will require a grant; payback will be similar to that of a residence or business, probably a decade or less, depending on prevailing utility electricity rates. 
Long in coming, the new North East/Millerton garage—maybe the term needs an upgrade, too; depot?—will be well worth the wait.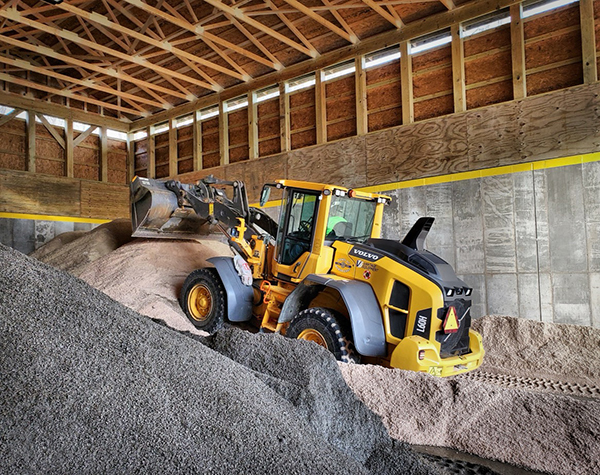 Modern, Low-cost Lighting for the Village
Street lighting took a turn for the worse when high-pressure sodium lamps were widely adopted. They saved everybody money, and probably took a bite out of crime, but night became sickly yellow-orange, perfect for an invasion of the walking dead or a jaundice outbreak but not your general outlook.
Sodium lighting has other disagreeable traits. It's bright in every direction, such as into a sleeping room. It contains mercury. It breaks easily. 
Allow us to introduce light-emitting diode streetlights, aka LEDs. The Village of Millerton already has quite a few but needs 85 more. The Climate Smart Task Force is working on it.
Rarely has an improvement been so decisive an advance beyond an existing technology. Unlike what Thomas Edison invented and we've largely used since then, LEDs do not require a filament, which eventually burns out. And unlike fluorescent tubes, which happen to be  more efficient than conventional lights, and may last longer, LEDs can be safely thrown out, containing no deadly material such as lead or mercury. Soon, LEDs may be reusable except for their tiny componentry and driver.
An LED is a solid-state electronic device, made of sturdy semiconductors and their housing, and as a result is quite durable. It consumes about one-tenth the energy of an incandescent bulb for the same output, lasts far longer, is smaller in size.  LEDs produce light across the visible spectrum or, if so designed, for a specific color frequency. Streetlights are warm white which renders things in full color. They "switch" quickly—that is, achieve full power and lighting intensity immediately, and are thus much better and last far longer than other lights for tasks that require cycling on and off. This trait is nice at dusk when they turn on and welcome when a night outage ends crisply and you know you are back in business. They emit little infrared light and thus don't get hot if well-designed. An LED can be built to focus its light without screens or shades, which means a streetlight will shine more on the streetscape and less into second-story windows or, as a James Joyce character muses, coming out of a pub, "the heaventree of stars hung with humid nightblue fruit."
An LED light does all this for 35,000 to 50,000 hours, or about 13 years for a streetlight, two to three times longer than a fluorescent tube, ten times longer than a traditional light bulb. And that's what the Climate Smart Task Force calls resilience.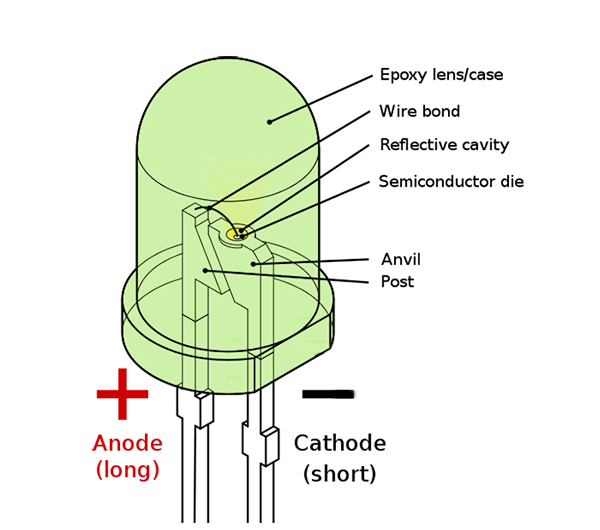 Wastewater Treatment Facility Slated for Village of Millerton
About one in five U.S. households rely on septic systems. Everyone in Millerton and North East, business and residential, does (a few still have outhouses). Septic systems require land, porous soil quite a few feet deep, and a service to empty the tank now and then. Millerton wants to grow, but has precious little land to spare. 
Meanwhile, some residential systems are on the verge of failure and expensive replacement—if replacement can happen under current state Department of Environmental Conservation regs. More than a few Village businesses have felt the pinch of limited sanitary facilities. A prominent store has been constrained for years by a small single toilet, and that in an adjacent building. Others, in desperation, have considered composting toilets, even marine holding tanks.
Clearly, Millerton needs to think big: its own waste-water treatment facility and underground connections to village business and homes. In fact, consultants and engineers have been hard at work. Fundraisers have been grant writing. And it will happen, unfolding in three phases, with the first involving the area of most need, the Boulevard and Main Street business district and adjacent homes with a dogleg up Route 22 North.
The major thinking involved the choice between two rival designs. One, a completely closed underground system much like a septic tank on a municipal scale, turned out to need more land than the village could acquire. A surface system will work, with " more intrusive treatment," noted the Millerton News, but no limit on amount processed and a much lower initial cost of $9.1 million. However, operating costs will be higher, at an annual $465,000 including maintenance and debt payments, and the design will discharge treated water into Webatuck Creek—hence the treatment and regs. These figures and the prospective designs were supplied by nationally recognized consulting engineering firm Tighe & Bond and relayed by senior project manager Erin Moore. 
According to Millerton Mayor Debbie Middlebrook in March, "Important as this project is for the future of Millerton, it can't be paid for solely on the backs of our residents and small businesses. Additional funding will be necessary."
Municipal wastewater projects are typically underwritten by the federal government, with state and other grants in support.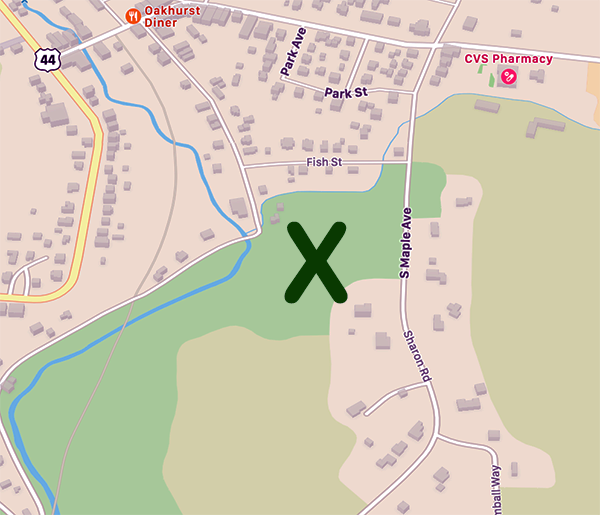 Road Salt
Maintaining Winter Road Safety with Less Salt
The effects of road salt on the living environment continue to be studied, but the results so far are that it's devastating.
First of all, a high concentration of salt is deadly for most life. Salt spread on roads to control ice invariably ends up in nearby streams and wetlands, where it wreaks havoc throughout the foodchain but especially at the egg, larva, and early stages of growth. Further, as scientists at the Cary Institute have learned, salt that settles in topsoil eventually ends up in nearby bodies of water, a process that continues for years.
Second, road salt harms and eventually kills roadside native vegetation, leaving an opening for invasive plant species that thrive under the conditions and soon spread far beyond the roadside. This becomes an issue for local wildlife, which are not accustomed to the new species and may find it unsuitable.
Third, salt accumulates, meaning the salinity of soils, wetlands, ponds, and streambeds increases every year lots of salt is spread by road crews.
Fourth, road salt also ends up in groundwater, where in rural areas it can have ill effects ranging from reduced milk production from cows to problems for people on low-sodium diets. 
What's to be done? Always use salt sparingly, only when it's absolutely necessary, such as a route to the hospital or a hill, and then dispense the minimum amount to get the job done. Try mixing a little salt with lots of sand or fine gravel. Wood chips work. Massachusetts pretreats road before a storm with brine, which reduces salt use up to 30 percent. Consider more expensive, less harmful alternatives, such as potassium chloride or what Minnesota is trying, potassium acetate.
As our climate continues to warm, the number of snow-free winter days will likely increase, but so will the incidence of heavier snowfalls and blizzards. The best solution may well be to confine driving only to emergency and essential services until the roads clear largely of their own accord—a restriction the Covid-19 pandemic quarantines have shown can be observed by many with little short-term inconvenience.
Here find well-rounded thoughts from researchers at the Cary Institute.
Broadband Access Advisory Committee
Working on Faster Internet for All
These days, especially in the age of CoVID, fast and reliable access to the Internet that's affordable is critical for just about anything that doesn't involve a shovel:  to stay informed, work remotely, attend classes from home, be entertained, video visit your doctor, and even find a vaccination appointment. But a woefully small percentage of rural dwellers in upstate New York have fast internet speeds. Often labelled broadband, it has come to mean much faster than what you can get over the phone line, or dial-up—speedy enough for video and sound plus channels for other feeds at the same time. 
In North East, the Broadband Access Advisory Committee was recently formed to study the state of high-speed Internet availability and affordability to Town and Village residents and to help remedy any shortfall, which will surely be prevalent and sizable. The committee is also working with groups from neighboring towns, particularly the active committees in Pine Plains and Ancram, to petition for county, state, and federal funds to expand broadband availability, and to lobby Internet providers to invest in our region, hoping that strength in numbers will warrant more attention.
To get started locally, the committee asks residents to complete a survey (available online here or paper copies available at the Library and NECC until May 15) about their Internet experience and provider or, if they are not online, why and what impact do they think this has on their lives.
To contact the committee, email nembroadband@gmail.com.