What is a Climate Smart Community?
North East and Millerton are separately registered New York State Climate Smart Communities, both committed to a resilient and sustainable future. 
Climate Smart Communities (CSC) is a New York State program that helps local governments take action to reduce greenhouse-gas emissions and adapt to a warming climate. The CSC program was launched in 2009 as an interagency initiative of New York State. The CSC program is jointly sponsored by six New York State agencies including the DEC and NYSERDA.
Who we are

In 2018, the Town of North East and the Village of Millerton each signed a pledge, along with hundreds of other municipalities around New York State, to develop community-wide climate mitigation strategies and improve sustainability. A Climate Smart Task Force was assembled and is initiating projects that will build environmental and economic resiliency: Chris Kennan, Town of North East Supervisor;  Griffen Cooper, Town of North East Councilman; Matthew Hartzog, Village of Millerton Trustee; Laurie Kerr, Village of Millerton Trustee; Kathy Chow, Task Force Coordinator; Jennifer Dowley, Rhiannon Leo-Jameson, Deborah Maier, Tom Parrett, Rich Stalzer, Andrew Stayman, Chris Virtuoso and Carrissa Whitehead.
Meetings take place monthly at Town Hall (and Zoom) every third Thursday, 5:30 to 6:30 pm. Contact us if you'd like to join a meeting.
How does it work?
By completing specific, proscribed actions such as auditing municipal energy use and emissions, expanding recycling opportunities for visitors, protecting natural resources, installing LED streetlights, involving the public—the list is long—a registered Climate Smart Community achieves levels of New York State certification: bronze or silver. Certification means that North East and Millerton are recognized as leaders in the effort to combat the climate crisis, and aids in obtaining state funding to improve local climate resiliency.
CSC Task Force goals
Reduce the town's greenhouse-gas emissions

Conserve and protect our natural resources

Educate and engage the community about the climate crisis and inspire local efforts to adopt solutions

Build a climate-smart culture throughout our municipal government and the  community at large

Help find cost saving green efficiencies for residents, businesses and government.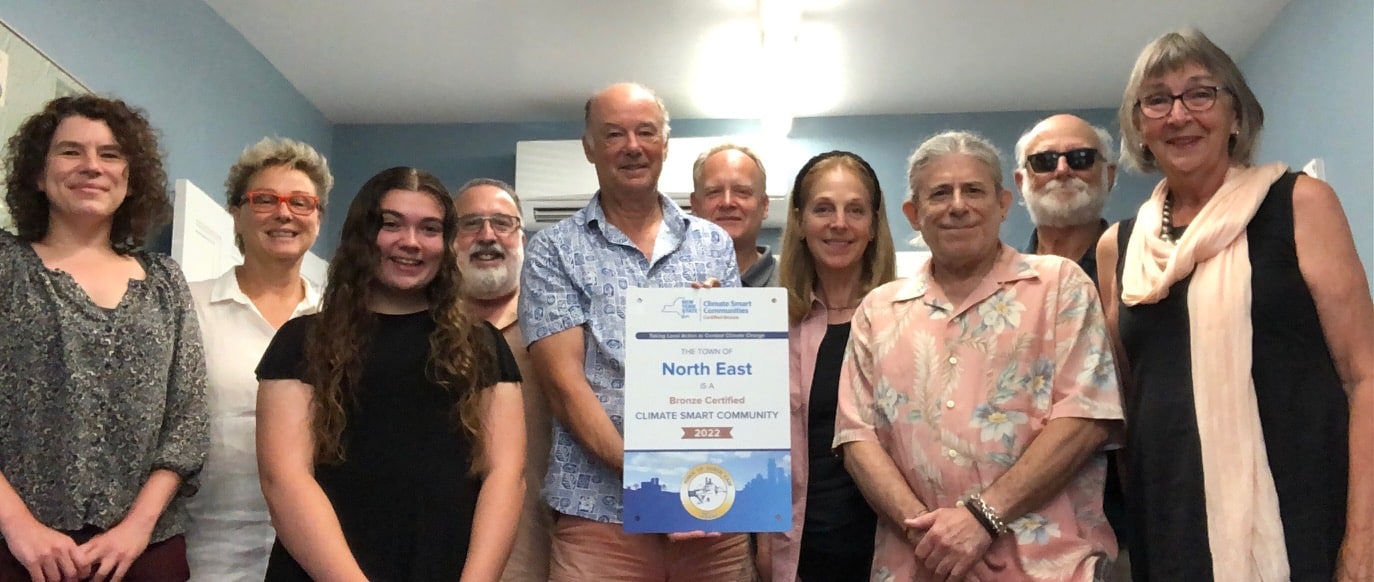 North East Awarded Bronze
One of New York's smaller communities shows leadership in climate actions
Under New York State's Climate Smart Community program, the Town of North East is now a certified Bronze town, qualifying with 142 points, 22 over the threshold.
North East joins six other Bronze communities in Dutchess County, all larger—the first were Red Hook and the County itself, both in 2019—and was certified at the same time as Ancram, its smaller neighbor to the north. North East and Ancram are among the smallest towns of the 85 so far certified Bronze, ahead of the nearly 300 that are listed as Climate Smart but not yet Bronze. Along with Dover, North East and Ancram provide a concentration of climate awareness and activity in eastern Dutchess and Columbia Counties.
"Next is to get the Village Bronze certified," said Kathy Chow, North East and Millerton Climate Smart Coordinator and head of the Climate Smart Task Force, which provided the teams of local residents shouldering the largely volunteer effort. When outside expertise was required such as for the inventory of the Town's greenhouse-gas emissions, it was funded through grants from  the State DEC-Office of Climate Change and Housatonic Valley Association.
Climate Smart spurs grassroots efforts to make New York not only less polluting, but also more resilient to the climate turbulence to come. It works to engage the community about the climate crisis and inspire local efforts to adopt solutions. Among North East's Climate Smart initiatives have been the greenhouse-gas inventory mentioned above; an inventory and inspection of all culverts in the Town, with the aim of prioritizing deteriorated structures and enlarging inadequate ones; a simplified permitting process for solar installations provided by the state and passed by the Town board; and this website, which Climate Smart evaluators singled out for praise, writing "The Town of Northeast and Village of Millerton have gone above and beyond to create a full website dedicated to their climate work."
The Climate Smart program began in 2009 and added certification levels in 2014. It has spurred New York communities of every size to take actions that lessen their outputs of greenhouse gasses, increase their efficient use of energy, and build resiliency to climate mayhem. The carbon footprints of the state and nation benefit, and so do the energy costs of affected consumers. 
The larger state effort, led and benchmarked by the New York Climate Leadership and Community Protection Act of 2019, has made New York the national leader in aggressively addressing climate-warming issues and reducing the human production of such greenhouse gasses as fossil-fuel emissions. The Act requires that all electricity generation in the state (or used within the state) be carbon-free and renewable by 2040, and that the burning of fossil fuels cease by 2050, including for uses such as home heating and cooking, power tools, recreational vehicles, and general transportation.
The Task Force has achieved Clean Energy Community certification, a sister program from NYSERDA. It makes us eligible for state sustainability grants, and we have already received one.
Social Media links
Follow Climate Smart Millerton on  Instagram and Facebook for updates on our progress on becoming a Climate Smart Community, as well as information about our events and tips on how you can become more environmentally conscious.
Email signup
Do you have questions, concerns, or comments about Millerton or North East becoming a Climate Smart Community or about one of our initiatives? Please fill out the form below or email us at ClimateSmartMillerton@gmail.com.