Bikers in this area enjoy paved country roads, magnificent views, and little traffic that's not local, but the roads have no shoulder and being forced off by a piggy driver could easily result in a crash. On the other hand, as we said, there's hardly any traffic. Notably, most drivers will slow down and give bikers a wide berth. For no traffic at all but other bikers and walkers, enjoy the 24-mile plus 2.2-mile Harlem Valley Rail Trail.
Harlem Valley Rail Trail
bike, walk, run, xc-ski, snowshoe
The HVRT, a great local resource, runs smack through our area. Consider it a starting point. The newly opened 8-mile section north of Main Street, Millerton almost completes a 26-mile uninterrupted trail from the MTA's Wassaic Train Station south of Amenia Village to Hillsdale in Columbia County. A bridge over Route 22 connecting a 2.2-mile stretch south of Hillsdale with the rest of the Trail will take a bit of doing, but could be started by fall 2021, pandemic, shots, and bureaucracies willing.
The Rail Trail is tame and civilized. As a former rail bed it is level, mostly rising barely perceptibly from south to north, asphalt-paved with guardrails along drop-offs and bridges, of which there are several. It's suited for walkers, runners, bikers, roller-bladers, skateboarders, strollers, and, after a snow, cross-country skiers and snowshoers. (Travel by motorized means of any kind is not allowed.) Compared to other trails, the Harlem Valley Rail Trail is relatively rural. You'll see a large variety of habitats.
History buffs will enjoy the occasional historical display. An infamous road cut north of Coleman Station filled with dense snow in a late 19th century blizzard and derailed a train with loss of the engineer's life. The Rail Trail serves four villages: Amenia, Millerton, Copake Falls, and Hillsdale. All have amenities for the trail user. Parking is at the trailheads and often (not always) at road crossings, including official parking at Wassaic, Amenia, Coleman Station, Millerton, Undermountain Road, Taconic State Park (Copake Falls), Orphan Farm Meadows, Black Grocery Road and near the Hillsdale trailhead, across from Herrington's Lumber & Hardware store.
The trail right of way is owned by New York State, maintained by volunteers and in Dutchess County by its Parks Department, in Columbia County by the New York State Office of Parks, Recreation and Historic Preservation. Find more info and updates about the new sections at hvrt.org, the Harlem Valley Rail Trail Association site.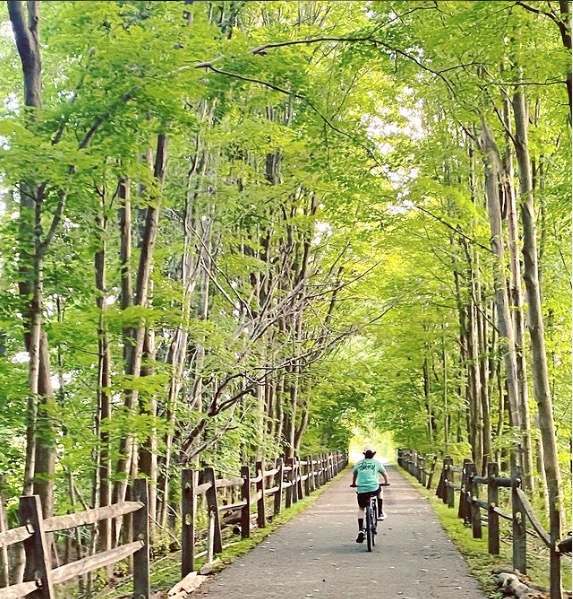 Our area teems with scenic roads, conservation lands and gardens to enjoy.  The Harlem Valley Rail Trail is a popular option (read more in the Bike section), but here are a few more favorites:
Located north of the village, running 1.7 miles between the Beilke Road (steps from where it crosses the HVRT) and Rudd Pond Rd, Merwin Rd offers scenic views with minimal vehicle traffic. For a nice 3-mile loop, pick up Merwin Road at the intersection of Beilke, and head NE past some homes with the Rail Trail and Webutuck Creek to the left.  Up a small hill and a little further along the homes yield to farms—corn to the left with the Taconic Ridge as backdrop, and cows to the right. After more gentle climbing enjoy shade from maple and birch trees planted neatly along both sides of the road by Spencer's Corners (Tree) Farms—note its other inventory to the right. 
Past the shaded alley on the left is the old Spencer's Corner Burying Ground, which has fallen to the town to maintain, and a restoration project is planned. A long sunny stretch with corn fields on both sides until Rudd Pond Road. Turn around here or make a 2.8-mile loop by turning right onto Rudd Pond then another right past onto Bielke Road, climbing a big hill before descending back to the start. Be alert on Rudd Pond and Beilke since these roads are more heavily traveled by cars and trucks.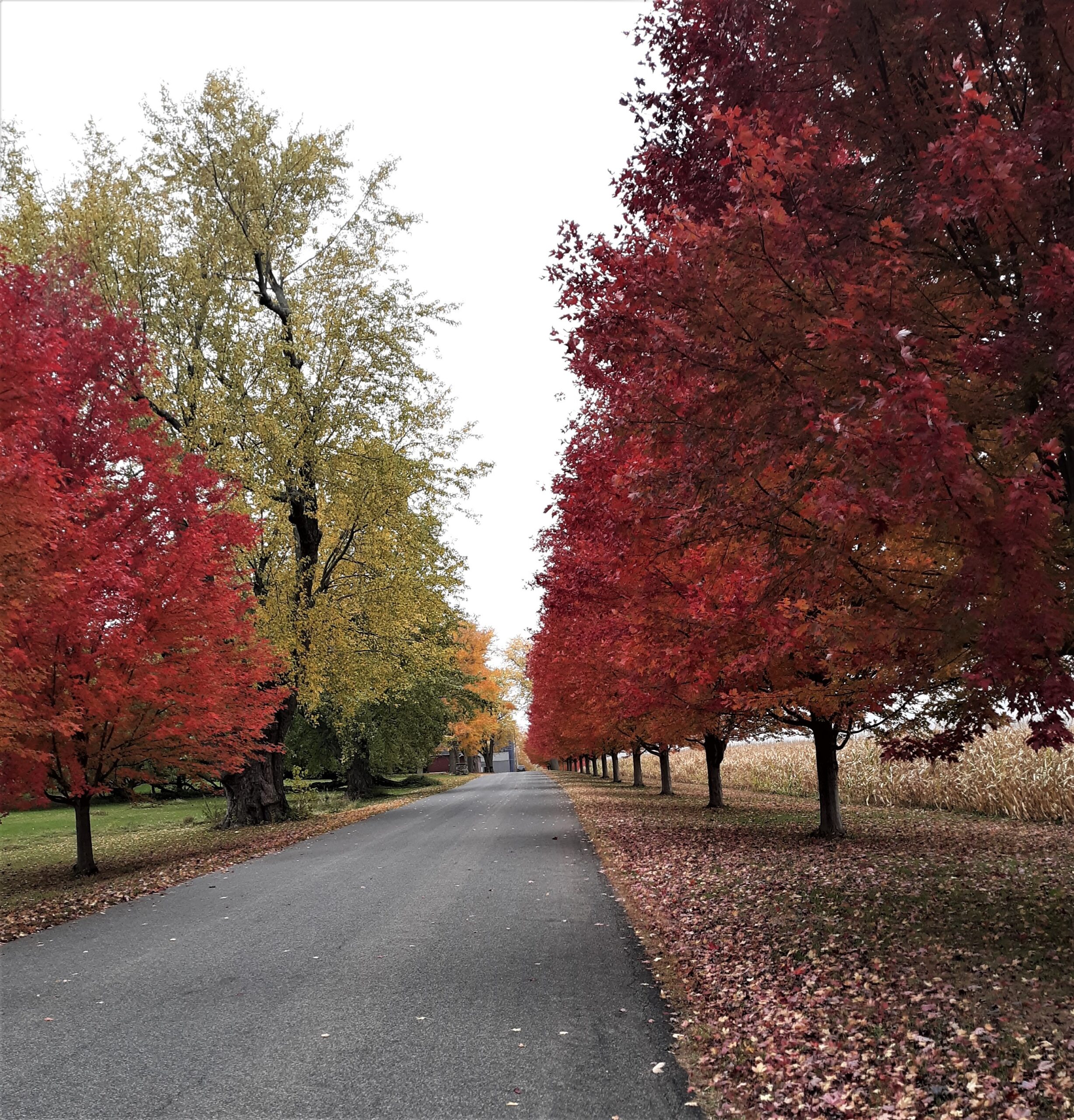 Overmountain Conservation Area
walk, run, xc-ski, snowshoe
This 1,700-acre public Columbia Land Conservancy property, just outside our town in Ancram, offers over 10 miles of trails, many of them easy and popular with walkers (with or without dogs). There are three small parking lots serving different trails. For the main trailhead, on Catalano Road NW off Route 22 north of Old Post Road 4 and Carson Road, South of White House Crossing Road, go to the far end of the lot, then turn right at the map kiosk onto the old farm road and past the gate.  Enjoy the views of meadows and the Taconics to the east as you gently climb to the top of Kite Hill where a gazebo awaits, about 0.4 miles from the start.  Stop here and enjoy the views to the west with the Catskills in the background.  From here you can continue along the network of paths.  If you have energy left over when you return to the lot, cross Catalano Rd following the yellow trail stakes to the top of Gentian Hill (steeper climb!) to enjoy another perspective of the Harlem Valley.  More info from the Columbia Land Conservancy here.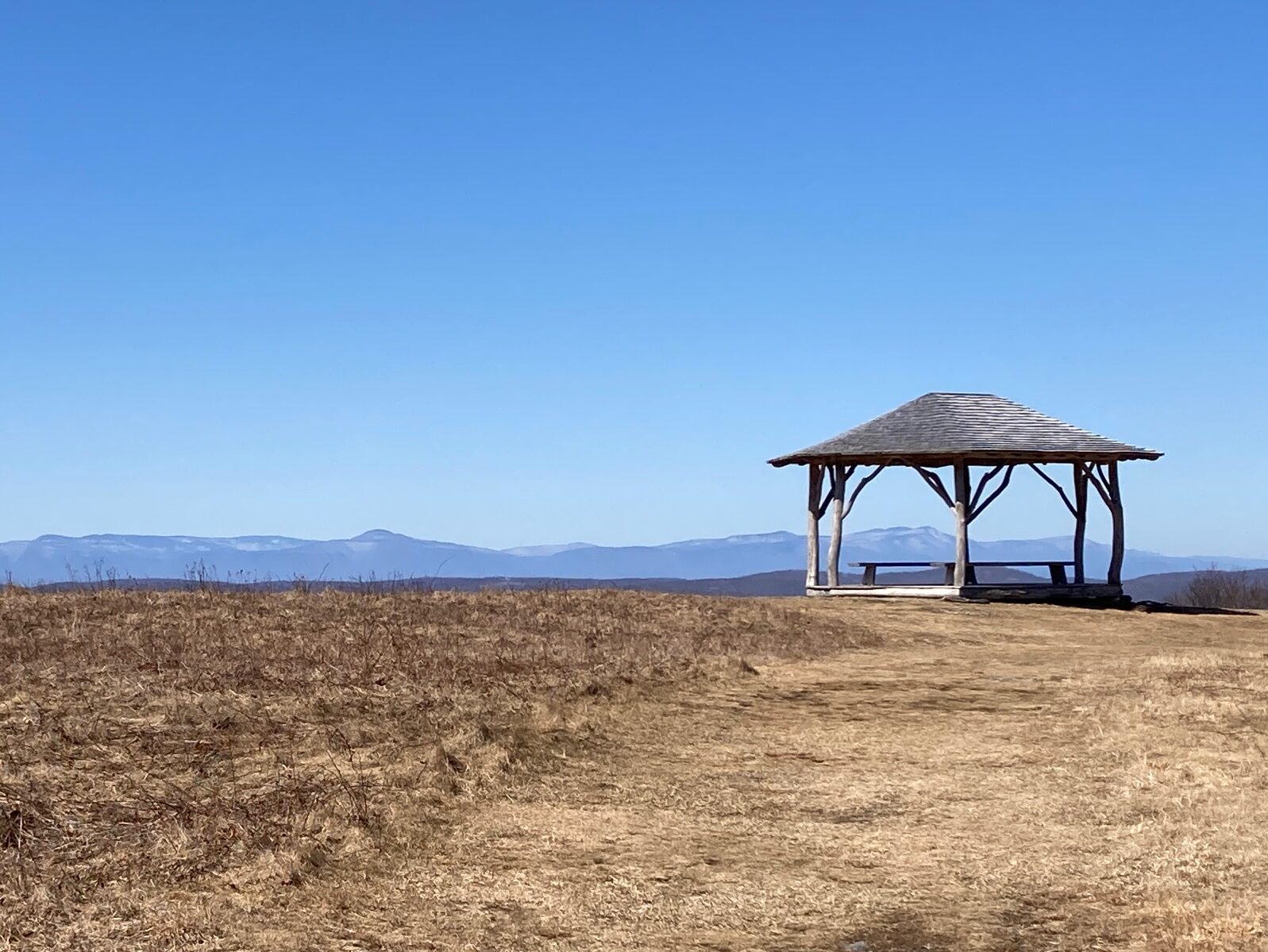 Innisfree is an American nonprofit public garden in an episodic eighth-century Chinese style in nearby Millbrook. It's impossible to see the whole from any vantage. Its 185 acres hold streams, waterfalls, terraces, retaining walls, rocks, and plants. Most of the plants are native, and the rocks are from the local forest. Its design evolved over more than 50 years, managed by landscape architect and gardener Lester Collins, who was also enamored of Japanese design and the arrival of modernism. At the site's center is Tyrrel Lake, 40 acres, a deep glacial pond from which water is pumped into a hillside reservoir, and thence to the garden's water features. In 2019 Innisfree was listed on the National Register of Historic Places.  More info here.
Eleven miles of walking trails await at the Audubon Center in nearby Sharon. This 1,147 acre wildlife sanctuary (so no dogs, not even your cute COVID puppy) offers diverse habitats that are home or migratory stops for many species of birds.  More info here.
Sharon Land Trust Goodbody Preserve
This 2-mile loop up Indian Mountain in Sharon, CT gains 500 feet of elevation and has some short steep sections.  
Start at the parking lot on the east side of Route 361 (from the firehouse north in Sharon, also Millerton Road; Sharon Road south from Millerton at the Route 44 light). White disks mark the trail, and these beckon you north to the woods before turning up the hill, but often a path straight up the hill has been mowed inviting a direct assault of the mountain – follow this if the grass isn't too high.  After 0.2 miles and 100 feet of elevation, you reach a sign for the "loop trail"—go into the woods for a clockwise circuit, but first turn around and enjoy the southerly views of Sharon Valley while waiting for your second wind. You can see Sharon Hospital among the open fields and tracts of woodlands, and possibly the Clocktower and the Congregational Church steeple on a winter's day.
Continue into the woods to begin 350 feet of climbing over the next 0.4 miles.  The young path (completed by the Sharon Land Trust in 2019) is in good condition and easy on the feet, but watch for the white disks since this part of the trail has many switchbacks.  A trail sign indicates "Millerton Valley View" at about 0.6 miles from the parking area.  Take the detour, try out the bench and soak in this view. The large white residence below is Mole Hill Farm, featuring an "obelisk folly" in the open field behind (folly—an ornamental structure often eccentric in design or structure without obvious utility) and stables above on the hill. The North East NY / Sharon CT border runs north to south (right to left) just before the green farm buildings a little further back. Dakin Road (which is called Taylor Rd once it crosses into North East), and Indian Lake can be seen to the right. The Coleman Station Rural Historic District begins at the top of the hill.
To continue the circuit, return to the main loop trail and turn left. The trail here levels off before dipping into a large evergreen grove—winter hikers will notice the dramatic transition from the muted colors of bare mixed hardwoods to dark green eastern hemlocks (short needles) and some white pines (long needles). Climb back into mostly hardwoods before reaching Mudge Pond Viewpoint, at 1,065 feet the high point on the trail, about 1.0 mile from the start.  The trail does not cross the summit of Indian Mountain, slightly higher and to the north.  Your descent toward Mudge Pond starts steeply over some rocky ledges—take care to follow the trail as closely you can to minimize damage to the lichen growing on the exposed rocks. After a series of switchbacks the descent eases and the rest of the hike is a relaxing "walk in the woods," including a long stretch in the lower reaches of the same evergreen grove crossed earlier.  At about 1.8 miles into the hike you leave the forest and return to the open meadow of Paley Field, about 200 yards from where you entered the forest loop.  Turn right, pass the bench and retrace your steps back down to the parking lot.
Variation: Turn around after one lap of the loop to lengthen this hike to 3.5 miles with 1,000 feet of elevation gain.
More information and trail map from the Sharon Land Trust here.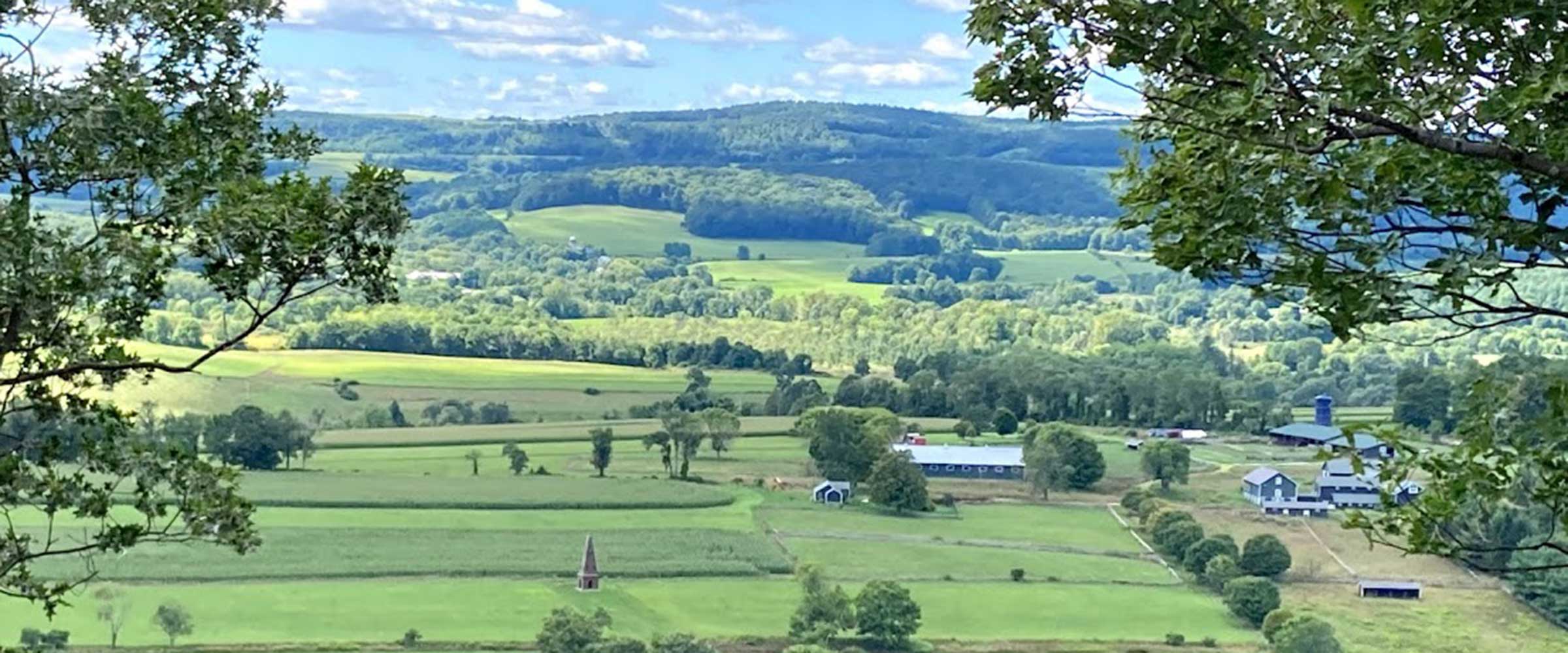 South Taconic Trail
hike, snowshoe, xc-ski (portions)
This 4-mile out and back trail gains 700' of elevation, and some stream crossings require rock hopping, especially after rain or snowmelt.
Start at the trailhead on Shagroy/Belgo Road, at a little parking lot at the south end of Rudd Pond Park—leave your car snugly parked along the street if the lot is full. The blazed trail will take you over a small stream (look for the old dam on the right), and past Iron Mine Pond (known locally as the Ore Pit), where the trail splits three ways: the first left via a short red blazed trail to the Rudd Pond Camping area run by the New York State Park system; followed shortly by another split—veer slightly left along the white-blazed trail; the trail on your right bends around the pond and back to the parking lot.
Follow the white trail through a forest, up along a stream on an old woods road, passing traces of the Maltby Furnace that once made iron. As the road turns right, the trail goes left and you will soon see stone walls, a lovely forest, and a small wetland. In about another mile, a trail marker indicates the right turn on the Taconic Trail to Harlem Valley Outlook, 0.6 miles away, while the red blazed Rudd Pond Loop continues straight on an old road—stick to the white trail for now. XC skiers should turn around here as the trail narrows from here on and becomes steeper. Others can continue to the Outlook, which has two rocky ledges with views.  Stop briefly at the first one, then climb a little higher for the bigger opening and enjoy the view.  Return along the same route or …
Return via Rudd Pond Loop—this option lengthens the hike to about 4.6 miles.  Backtrack .6 miles to the Rudd Pond Loop sign and turn right down the forest road with the red blazes.  Note that there is a small trail going to private land marked with red dots between the Outlook and the Loop trail sign—don't use this.  Rudd Pond Loop trail winds down the road as Rudd Pond comes into view, through a forest of oak, birch, and maple. At the bottom follow the paved road south along the pond, past the beach and the camping area to another, smaller red-blazed path south through the woods.  In a few minutes you'll find the north end of the Ore Pit and meet the trail you came on. Turn right to the parking lot.
Trail was built and is maintained by volunteers with the New York / New Jersey Trail Conference.  More info about this trail here.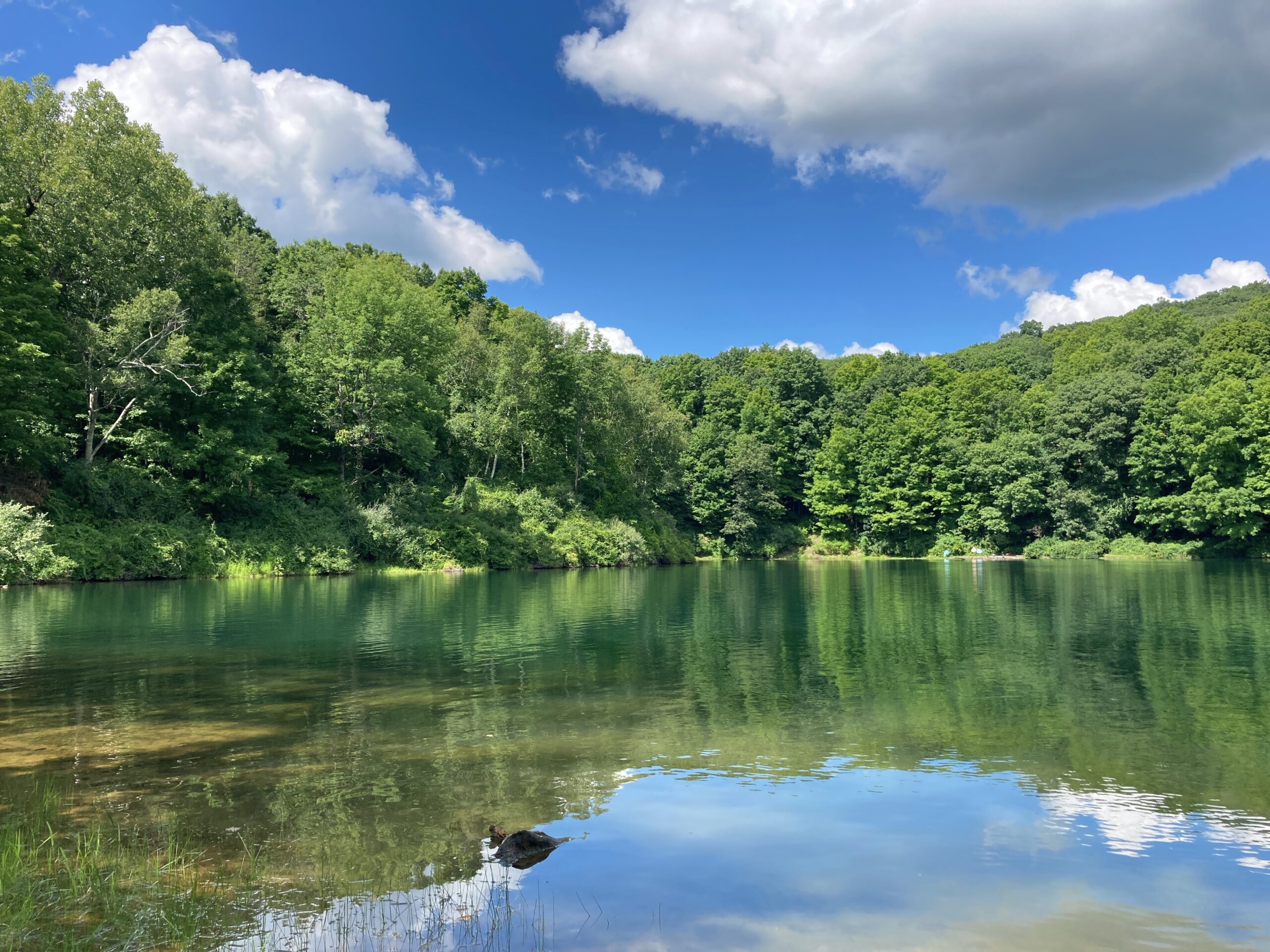 As a destination, Bear Mountain offers a delightful, um, peak experience, with a bare summit and giant cairn to climb for an even better view. Reputedly a former lookout, this pyramidal pile of large, stable rocks is dotted with resting hikers on popular days. Bear has the distinction of being the top peak in the state at 2,316 feet. The high point at 2,380 feet is, rather embarrassingly, not that near the top of Mt. Frissell, which lies mainly in Massachusetts some 1.5 miles west-northwest of the Bear. There are a few ways to get to the top, all but one in the strenuous category. We'll start with easy. 
1. BEAR MOUNTAIN (easy route)
In Salisbury, turn north off Main Street/Route 44 at the Town Hall and drive up Factory Road/Washinee/Mount Riga Road to the ridge line at South Pond and Riga Lake where you turn right to drive the ridge. Not long after the turn, find a dirt road on the right. Park discretely nearby. (The South Taconic Trail Map 107 shows a dotted line marked Bear Mountain Road.) Or continue driving about a third of a mile to the small parking areas for Mt. Frissell and walk back. Simply hike this road until you see the Bear Mountain trail on the left. Through woods and ultimately an open field of low-bush blueberries, you'll reach the peak in no time. Then either retrace your steps or—far better, if you don't mind a small challenge— return the long way in a counterclockwise loop. The only hard part is right away when you must climb down a steep face of perhaps a hundred feet using hands and feet. Then you'll be in a cool, open forest that's quite magical. Continue around to the left, catch a small trail back up the mountain past a looming log lodge that belongs to the Appalachian Trail Club. Go left when you gain the road (or right if you parked at Mt. Frissell) and soon you'll come across your car. A far more environmental approach is to walk the entire distance from and back to Salisbury, a full day of work and accomplishment. By the way, down to Salisbury and back by foot on this route is a recommended AT side trip for civilization-starved through-hikers. 
2. BEAR MOUNTAIN via Undermountain Trail
Undermountain Trail starts three miles north of Salisbury off Route 41. There's a dirt parking lot on the west side and during summer it's easy to miss since it's covered by foliage. Undermountain Trail might be the most popular trail in the state since it's a jumping off point for a wide variety of hikes and is part of the Appalachian Trail. It rises sharply up for two pretty straight miles to meet the AT, which you join. From here it's about another mile to the top of Bear Mountain with a short, semi-steep rise the final few hundred yards. This hike is about six miles round trip.
3. BEAR MOUNTAIN via Race Brook Falls
This popular option starts farther north, along the Salisbury-Egremont Road, Route 41 (turn north at the White Hart Inn). You must be in decent physical condition as this is a steep hike. But if you take your time and bring plenty of water and "energy food," the whole experience will be well worth the effort. You'll need to choose between the north and south sides of the stream. North will give you, in anything but a drought, a climb up to a tall, silvery string of a waterfall. The south trail breaks from the brook to flatten the ascent, then cuts back to cross the brook below a second waterfall, climbs sharply another 200 feet, walks for a mile or so along the trickle of a brook, and joins the Appalachian Trail. From here the daring or foolish continue on the AT to Mount Everett, at 2,602 the tallest peak in the Taconic range. Three AT lean-tos are nearby, attesting to this spot's popularity. A bit north is Guilder Pond, rimmed by its own trail. 
4. BEAR MOUNTAIN via Sages Ravine 
Another difficult route so plan ahead. Find the parking lot on 41 to the west between Hammertown and Kelsey Roads. The trail meanders south a ways before finding the brook and ascending in parallel. About halfway up the AT joins from the south. Continue on the AT up to the road, or hang a left and a trail known as Paradise takes you to the upper base of Bear Mountain (see above). Meeting the Bear requires a good hundred feet of scrambling using all four appendages, so be careful and take your time.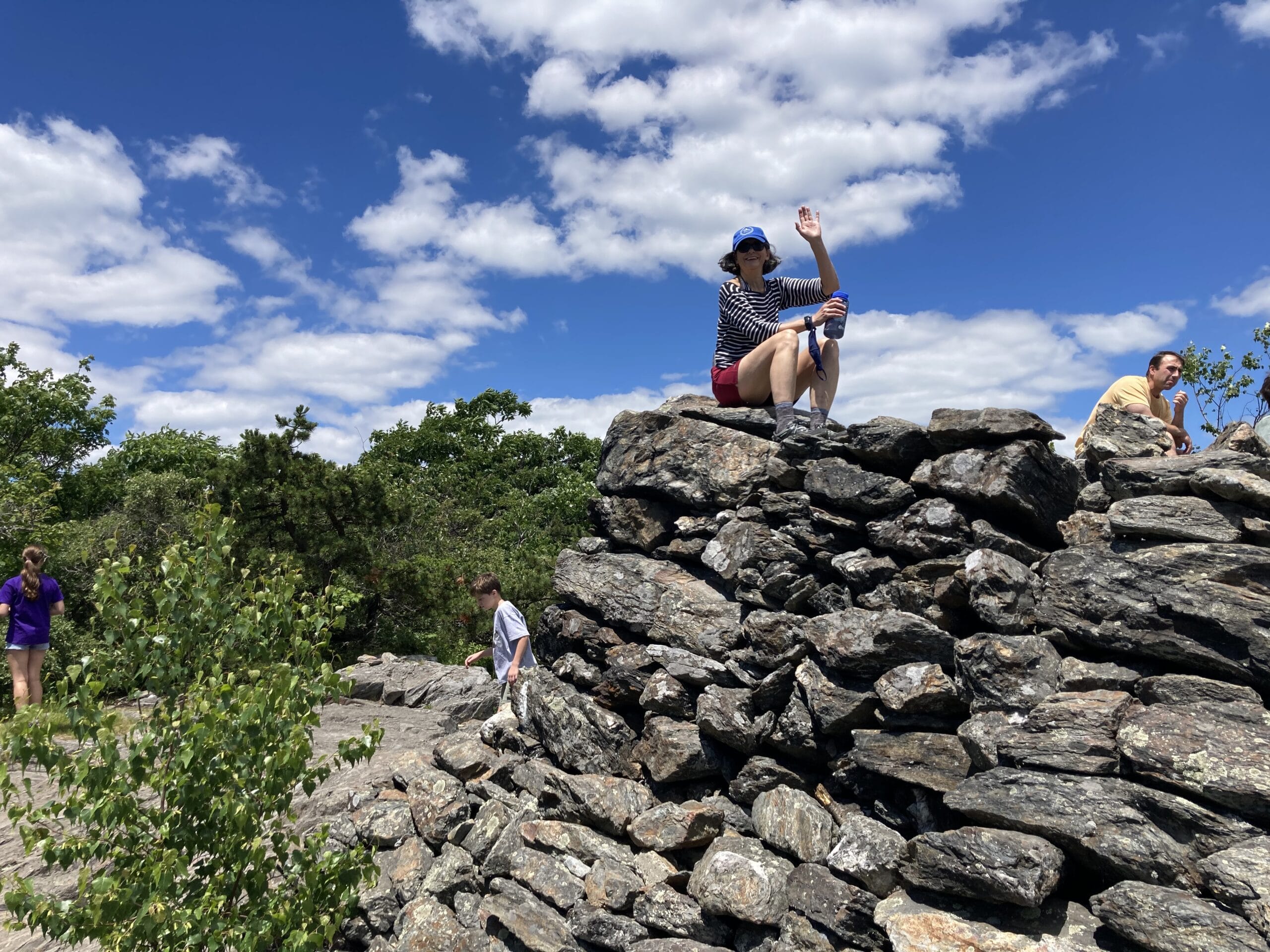 This rigorous trail is plenty enough for a day hike. At 1,738 feet, it offers a spectacular view. At Salisbury Town Hall go up Bunker Hill Road. Stay right until it ends at dirt parking lot labeled "Hiker Parking." You'll enter the Blue Trail system—follow the blue blazes. Near the top, the Appalachian Trail joins from the right. It uses white blazes. A few hundred yards from Lion's Head is an open plateau with a beautiful view of distant mountains and lush forest. (You may hear the faint hiss of a waterfall, but don't pursue it down the mountain into its thick growth. It's not as close as it sounds and potentially dangerous.) Near the peak will be a small clearing. It almost looks like a campsite. From here go straight up the rocks on the AT or take a circuitous but physically less demanding route by following the blue trail for a few hundred yards then doubling back to the peak. To continue to Bear Mountain, about 3.5 miles distant, head north on the AT.
Gardening
Slow down, take a deep breath, and grow some great tomatoes
By Andrew Stayman
One of the benefits of living here in the Northeast is seasonal change. For many, spring is the favorite. As temperatures warm up and daylight slowly grows longer, people head outdoors in droves for their favorite fresh-air activities, one being gardening.  Gardening can be a meditative, rewarding, and fulfilling activity that even provides unintended health benefits.
If you are an information and details type of person, maybe you want to know what growing zone you live in so you can determine what to plant and when. 
Personally, I don't concern myself with such details. As the sun warms the air, like seasonal migrating animals I instinctively find myself at Paley's Farm Market. They have a plethora of composts, potting soils, planting soils and are more than happy to advise which would be best for your needs. And then there are all the flowers, plants and vegetables waiting to be brought home. [Other good local choices are Millerton Agway for everything and for plants, Daisey Hill and Silamar Farms.—Ed.]
My needs are modest. Every year for starters I get potting soil, white impatiens for two planters, a dahlia for a pot in the back yard, and a hanging flowerpot for the front door. 
My annual first pilgrimage to Paley's is always the signal of a new beginning with the anticipation and expectation of watching plants come up, flowers blossom, and the soothing feeling that growing plants provide.
Well before Paley's opens, I start tomato plants and some flowers from seed. I don't start them from seed for any practical purpose. It doesn't always work. I start them from seed for the simple joy of watching them grow. There is something therapeutic, calming, rewarding, and delightful about watching something grow. That is the most important aspect of gardening for me. I would hope it is as well for others, and more importantly that one is cognizant of it. 
If you've never had a garden and were thinking of starting one this year, don't worry about a lack of gardening experience, or not knowing what to plant or when. The places mentioned will provide you with enough advice and good counsel to get you started. The most important aspect of your garden is that you not only get the benefits of home-grown vegetables, but the unexpected feelings of pride, satisfaction, and well-being the plants and garden arouse. 
Another benefit from gardening is that when your girlfriend calls and asks what you're doing, with a sniff and masculine tone, you can say, "I have chores to do. I'm tending to my crops," as you water your four tomato plants.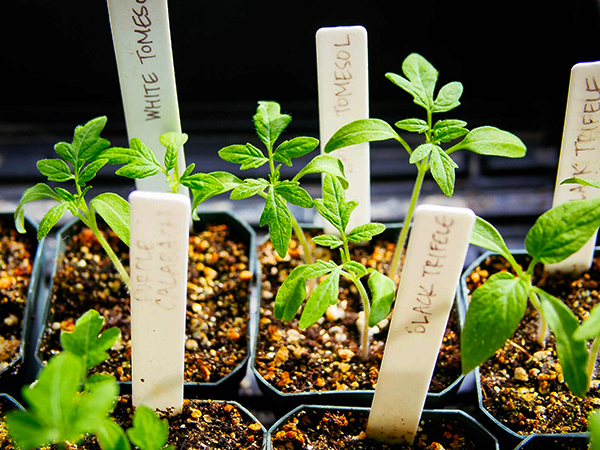 LINDA LY, GARDENBETTY.COM
LINDA LY, GARDENBETTY.COM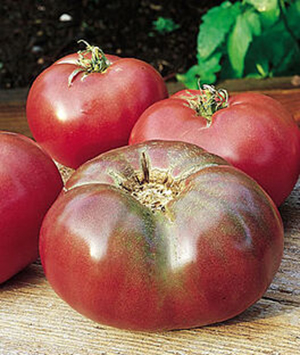 Water Sports
Being on or near the water in summer is, for many humans, heaven
A great way to stay cool in summer by enjoying the water. This area is replete with navigable waters, fishable lakes and streams, and swimmable ponds and quarries. Within 25 miles of Millerton are a dozen lakes, the mighty Hudson, the Housatonic River, Webatuck Creek swelling to Ten Mile River, and countless ponds. In a winter like 2020-21 it's cold enough for ice skating, ice fishing, and—for a real thrill at highway speeds, inches from the surface—iceboating.
Many local lakes are surrounded by private land but have a public boat launch. The boat launch might be a money-making operation for the town or village, with fairly steep fees in season. Boats powered by a gas engine are usually prohibited, especially on smaller lakes, and that includes jet skis. Heed the signs! But if you can carry it in and launch it from anywhere, you're home free. (This means you: canoers, sailboarders, kayakers, rafters, inflatable boaters, floaters, tubers. Wear your lifejacket!) If so, be absolutely sure your hull and equipment are not contaminated with even one speck of an invasive plant species.
You probably have a favorite swimming hole, a quarry or a deep creek. State parks levy a fee for their beaches. The developed beaches on lakes and ponds are typically restricted to local residents, with varying enforcement. A discrete midnight swim on a hot night may well be indulged. 
All the following lakes are fishable, which requires a state license. Do an online search for current conditions and recent catches. New York lakes and ponds are often stocked by the state; check with NYSDEC.
| | | | | |
| --- | --- | --- | --- | --- |
| LAKE OR POND NAME | TOWN | ACRES | RAMP / FEE | GAS POWER  |
| Copake | Copake NY | 410 | Y / Y  | Y |
| Indian | Millerton NY | NA | N / N | N |
| Kinderhook | Kinderhook NY | 375 | Y / Y | Y |
| Queechy | Canaan NY | 141 | Y / N | N |
| Rudd + SP | Millerton NY | 64 | Y / N | N |
| Sylvan | Beekman NY | 112 | Y/ Y | N |
| Taghkanic + SP | Ancram NY | 168 | Y / Y | N |
| Washining (E. Twin) | Salisbury CT | NA | Y / Y | Y |
| Wappingers | Wappingers Falls NY | 87 | Y / N | Y |
| Waramaug + SP | Washington CT | 656 | Y / Y | Y |
| Wononpakook | Lakeville CT | 353 | Y / N | Y |
| Wononscopomuc | Lakeville CT | 348 | Y / Y | N |
| SP = state park | | | | |